Over-the-counter drug
Etrixenal 250 mg tablets
Relief of acute mild to moderate pain in joints, muscles or tendons
Analgesic effect lasting for several hours (has a plasma half-life up to 15 hours).
For short term usage.
From XXX CZK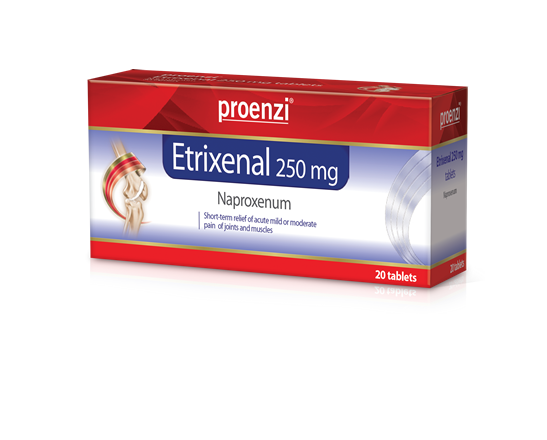 What is it for?
Pain won't stop you today!
Etrixenal 250 mg is designed for acute pain relief of the musculoskeletal system.
Effective pain relief

Etrixenal 250 mg relieves pain of musculoskeletal system throughout the day.

Anti-inflammatory effect

Its anti-inflammatory effect helps to lessen pain, swelling, redness and heat.
Dosage
To be taken by adults only
The normal starting dose is two tablets, followed by one tablet every 6 to 8 hours as needed. Swallow the tablets whole with a little water, with or after meal. Product is not recommended for children.
Do not take more than 3 tablets a day without medical advice. If the symptoms do not improve after 7 days of treatment, you should consult a doctor.
You can find more information about dosing in the product information leaflet.
Ingredients
Designed for pain relief
1 tablet of Etrixenal contains naproxenum 250 mg, Non-Steroidal Anti Inflammatory Drug.
Package
Multiple package options, so you can choose
Available in various package options. Select the option that suits you, then click below for ordering.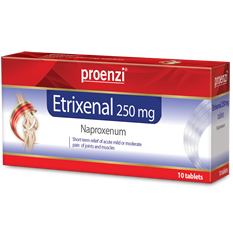 10
tablets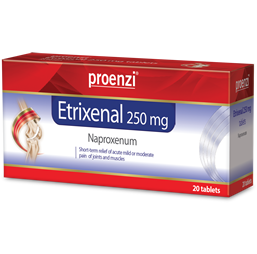 20
tablets

FAQ
You ask, we answer
Here you'll find answers to the most common questions customers have about our product. If you have a specific question, feel free to submit it and we'll get back to you.
Just some question
Etiam a magna vel mi ornare ullamcorper. Suspendisse maximus, justo eget iaculis mattis, ex arcu commodo nunc, sit amet sodales justo eros quis diam. In hac habitasse platea dictumst. Vestibulum in metus a dolor convallis varius. Curabitur nibh ex, lacinia vel suscipit et, efficitur at dolor. Pellentesque viverra quis sapien vel tristique. Integer tortor justo, efficitur non tincidunt ut, tincidunt ac diam. Curabitur vestibulum neque vel tempor mattis. Vestibulum ante ipsum primis in faucibus orci luctus et ultrices posuere cubilia Curae; Aliquam dictum, urna eget semper ornare, est odio vulputate est, at commodo nibh urna nec lorem. Duis eleifend, est at sodales vestibulum, libero odio vulputate enim, at bibendum sapien urna id mi. Vestibulum quis tristique est.
Vestibulum ante ipsum primis in faucibus orci luctus et ultrices posuere cubilia Curae; Donec et lorem volutpat, tincidunt lorem in, cursus nunc.
This is another question
Curabitur mattis metus ultrices rhoncus vestibulum. In placerat tempor ipsum ac feugiat. Morbi eget nunc mauris. Aliquam lorem lorem, aliquet malesuada arcu eu, elementum tempor lectus. Sed dapibus sed mi eu gravida. Nulla aliquet accumsan est ultrices sagittis. Donec velit erat, dapibus eget faucibus eu, malesuada id leo.
Here is another question about the product
Fusce luctus eros sit amet tortor semper, posuere posuere ante blandit. Sed semper elit vestibulum ipsum elementum, quis congue nibh suscipit. Sed eleifend erat sit amet tellus lobortis vehicula. Phasellus sed tincidunt ipsum, viverra ullamcorper ex. Suspendisse accumsan pellentesque leo sed ullamcorper.
Food supplement
Give your joints maximumm!
Complex joint nutrition to optimally support your joints
Discover Proenzi® Rapid+